Wij zijn lid van de Federatie Oosterse Gevechtskunsten (FOG) en daarmee aangesloten bij het NOC*NSF. Ook zijn wij door het NIVM beloond met het keurmerk Veilig en Verantwoord Vechtsporten.



Voor de jongste leden hebben wij op zondag nu kinderlessen! Tijdens deze lessen besteden wij extra aandacht aan motoriek en coördinatie en wordt op een speelse manier wushu basis aangeleerd. Ouders mogen kijken of met de kinderen mee sporten.
Lestijden
| | | |
| --- | --- | --- |
| Woensdag: | Wushu | 18:30 – 20:00 |
| | Tai Chi | 20:00 – 21:00 |
| Zondag: | Wushu kinderen (5-9) | 10:00 – 11:00 |
| | Wushu gevorderden | 11:00 – 12:30 |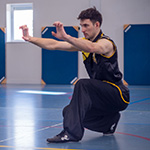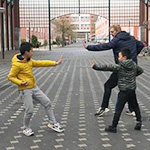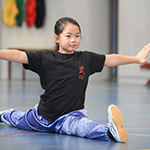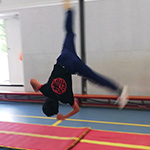 Contributie
Lidmaatschappen:
1. Wushu 1x per week trainen = € 25 euro/maand
2. Wushu onbeperkt trainen = € 30 euro/maand
3. Tai Chi 1x/week trainen = € 25 euro/maand
4. Wushu & Tai Chi onbeperkt trainen = € 35 euro/maand
Onregelmatig trainen:
Trainen met regelmaat is belangrijk. Maar soms is dit i.v.m. werk of andere zaken niet altijd mogelijk. Voor mensen die niet regelmatig kunnen trainen, maar toch af en toe mee willen doen hebben wij daarom ook strippenkaarten.
10 strippen= € 70 euro
Proeflessen & Lid worden
Voordat je lid wordt ben je van harte welkom bij een gratis proefles (mogelijk op alle bovenstaande dagen).
Om vervolgens lid te worden ga je akkoord met de huisregels en vul je ons inschrijfformulier en de bijbehorende machtiging in. Deze levert u in bij de eerstvolgende les.
Kledingvoorschriften
Schoenen:
In onze zaal zijn geen buitenschoenen toegestaan. Je kunt trainen op wushu/kung fu schoenen of lage gympen/zaalschoenen.
Voor kinderen zijn gymschoenen van de basisschool prima om op te beginnen.
Broek:
Om wushu te trainen heb je een lange sportbroek nodig. Dit kan bijvoorbeeld een joggingsbroek of trainingsbroek zijn. Wij verkopen ook wushu broeken.
T-shirt:
Je mag je eigen t-shirt dragen.
Nieuw leden met een abonnement krijgen een gratis t-shirt zolang de voorraad strekt.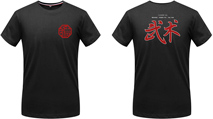 Wushu pakken zijn pas nodig wanneer leden willen deelnemen aan wedstrijden.
Onze leverancier van wushu kleding en sportwapens is Kung Fu Supply in Zoetermeer.
Locatie
Vanaf 1 januari 2022 sporten wij in de Lotus Dojo van Sporthal de Altis in Rijswijk.
Direct na binnenkomst vind u de dojo aan uw rechter hand. Parkeren in de naastgelegen parkeergarage is gratis.
Adres:
De Bruyn Kopsstraat 1
2288 EC Rijswijk